Laser Engraving Tips is jam-packed with useful resources, tips, and tricks to start your laser engraving journey and make your business profitable and rewarding. We also offer an affordable in-house professional drawing service and we are currently working on adding some exciting additional services. So watch this space!
Laser engraving is a terrific way to have fun while earning money, but you will need a laser engraving business plan to be successful. We have excellent resources to assist you in getting started if you want to turn this popular hobby into a small business and have the ability to generate a good income.
Don't let the process overwhelm you. We will provide all the resources needed to get the correct equipment with our buying guides and will share all our laser cutting and laser engraving tips and tricks that we have learned over the years so that you don't have to make the same mistakes we did.
Is Laser Engraving and Laser Cutting Profitable?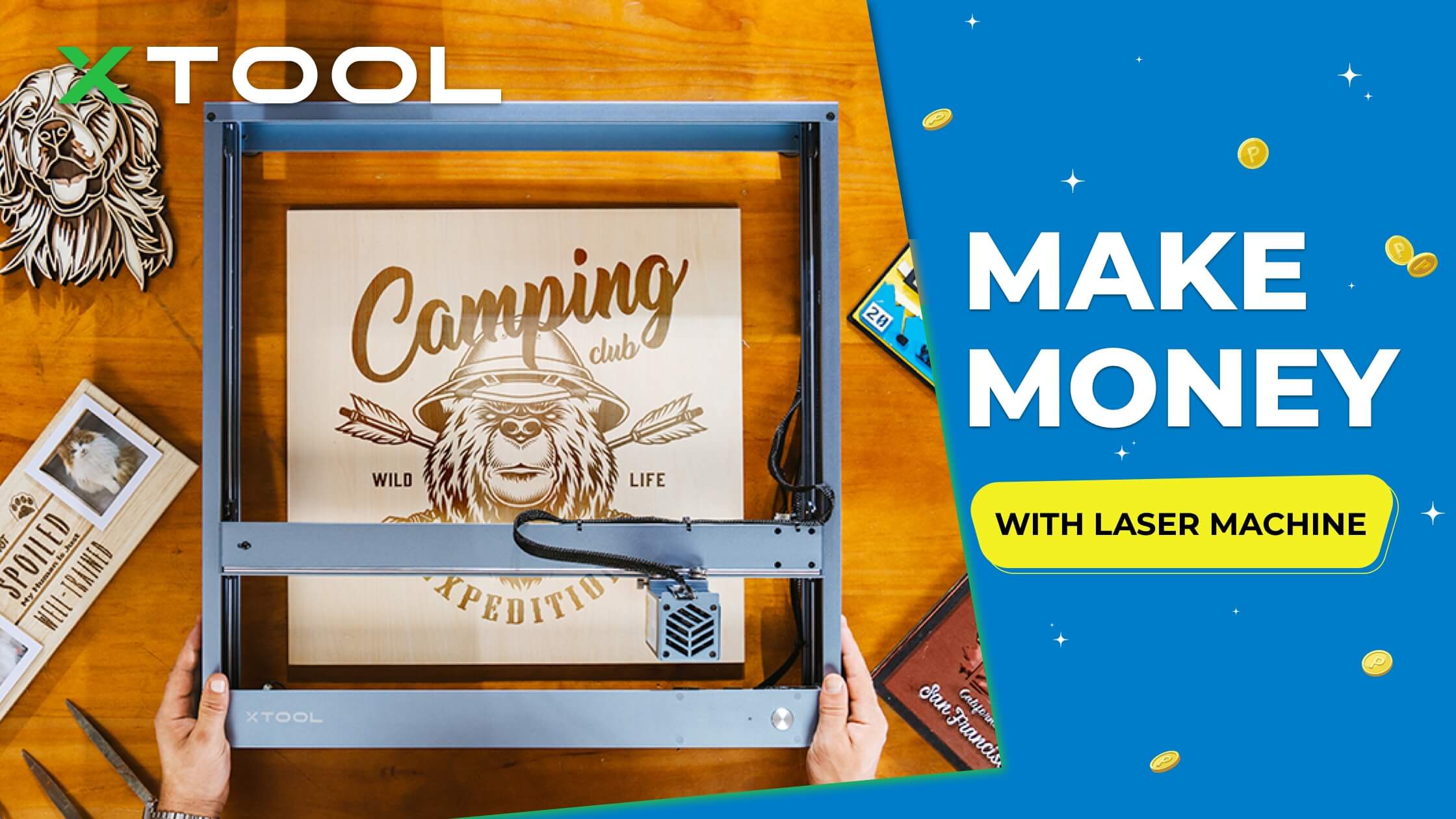 [US Store] xTool D1 Pro | Bestseller is on sale! Up to $370 off.
Starting your own laser engraving and cutting business can be extremely profitable. There is a market for these crafts and creations, but getting started will require some effort and research.
To be successful in this industry, you must be willing to think outside the box and come up with original ideas. If you opt to manufacture things that are already popular, you must have a creative twist that will set yours apart from the crowd.
Making laser-engraved products in your garage or extra room at your home is a simple process that can yield profitable results when sold on websites such as Etsy, Amazon, eBay, Facebook, or even your own. It should be evident from the fact that some are making thousands of dollars a year that the laser engraving industry is profitable.
Our 2 Step Process To Get Started:
Step 1: Research
Research is knowledge so the more you know the better your chance for success. Start by exploring the articles in our laser engraving business category below to understand important aspects of a laser engraving business such as:
Step 2: Find The Correct Laser Equipment and Supplies 
To establish a thriving business, you must begin with the correct equipment and resources to ensure that you can manufacture great-quality items.
To begin, you should get a high-quality laser engraving machine. The price of these machines will vary greatly based on a variety of parameters, including features, capacities, the type of laser engraver, and the manufacturer.
Following that, you'll need to buy numerous accessories, as well as supplies.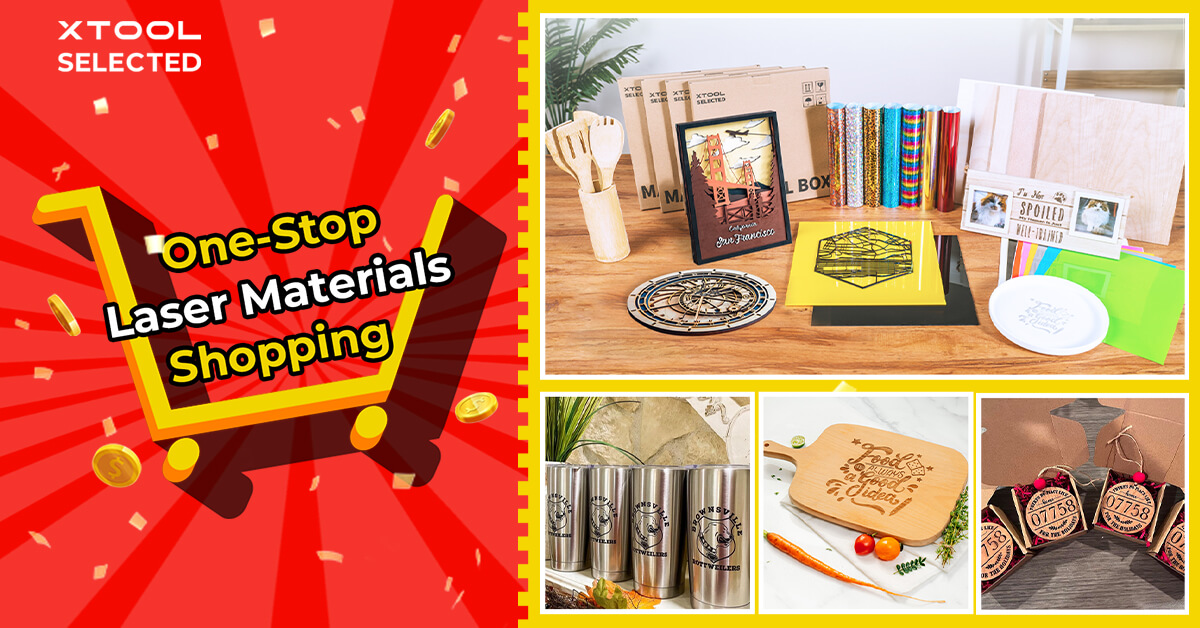 [US Store] 1000+ good-budget and qualified laser materials at xTool Slected.
https://www.xtool.com/pages/xtool-selected?ref=xcGlrUuS9KNx9w&utm_medium=4965&utm_source=influencer
Things to buy include:
Computer: You will need a computer that can support graphic software like Photoshop. If you are only using the computer for your laser engraver then you won't need a very high-spec one.
Fume extractor: These machines suck up the toxic fumes that can come from laser engraving certain materials.
Safety equipment: Besides harmful fumes, laser engraving can be dangerous if you are not adequately prepared. These items can include safety goggles, a fire extinguisher, a sturdy table or desk, an exhaust fan, etc.
Materials for engraving: There is a variety of materials that can be customized and crafted with a laser engraver. Decide where your skills lie and what you feel will sell best and stock up.
Explore our buying guides category to find the best laser engraver, laser engraver accessories, and laser engraving supplies.
The types of products you can create with a laser engraver are nearly endless. The Laser Engraver can engrave text and designs into just about any material. This wide range of personalized gifts gives you plenty of wiggle room when choosing your laser engraving projects.
Some of the more popular items to engrave include:
Wine glasses (great for weddings)
Key chains
Signs and business cards
Jewelry
Antiques
Artwork
Personalized products
Photo frames
Pet accessories
Coffee mugs
Wall clocks
Wooden puzzles
These are just a few of the many options available. Investigate what products are in high demand in your area and create one-of-a-kind designs that appeal to all audiences. Explore our laser engraving category below to find lots of helpful resources.
The multipurpose nature of laser cutters allows them to cut a wide range of materials, including wood, acrylic, rubber, leather, corrugated and plain cardboard, plexiglass, and other plastics (apart from PVC). This long list shows why laser-cutting equipment is used in practically every manufacturing sector and the possibilities are endless.
Explore our laser cutting category below to find many helpful laser cutting resources such as:
Laser Engraving Tips maintains a strong in-house team of certified CAD/CAM users to provide our affordable and professional drawing service. All we need from our clients is a drawing, image, or photograph, as well as details about what they want to achieve, and we'll take care of the rest. For detailed information or to request a quote visit our drawing service information page below.
Subscribe To Our Newsletter
Contact Us
contact@laserengravingtips.com
USA/Canada Toll Free: 1 (800) 678-1506